iPool Version 5.3
Create engaging feedback reports as a PDF file.
Starting now, and with just the click of a button, you can easily create clear and concise feedback reports as PDF files.
You will find this to be an extremely useful feature for sharing your recipients' feedback with others, who do not have access to your iPool. And you can conveniently archive all the accumulated feedback on your computer.
Numerous options allow you to easily adapt the feedback reports to suit your individual desires:
One thing you can do is specify in detail which elements you want to insert into the PDF feedback report. An example, if you wish, would be to insert the cover artwork and key facts about a particular release as a title page.
You can also integrate a graphic feedback analysis as needed.
Aside from that, you are also free to adjust the colors of the bar charts and column headings according to your personal preferences – and do much, much more.
Export feedback as an Excel file
Starting now you can also download and save all of the accumulated feedback from your recipients as an Excel file on your computer.
Once downloaded, you can easily open and edit the file using such spreadsheet software as Excel or LibreOffice.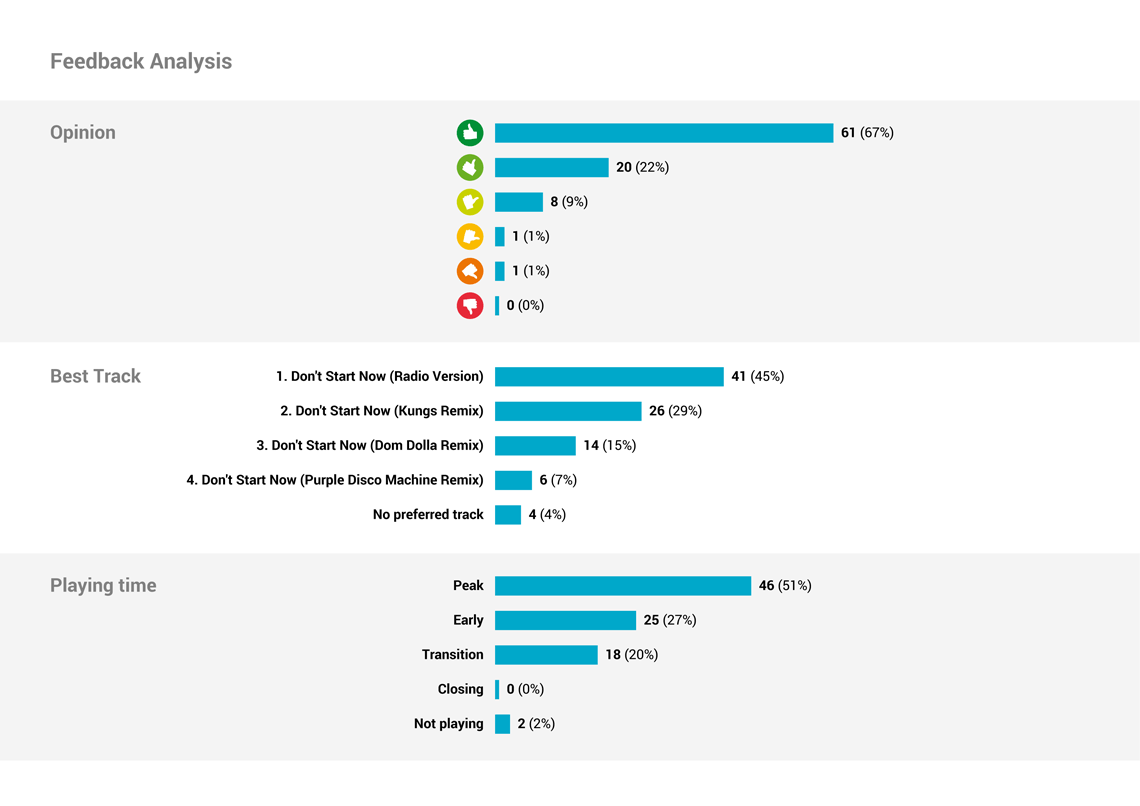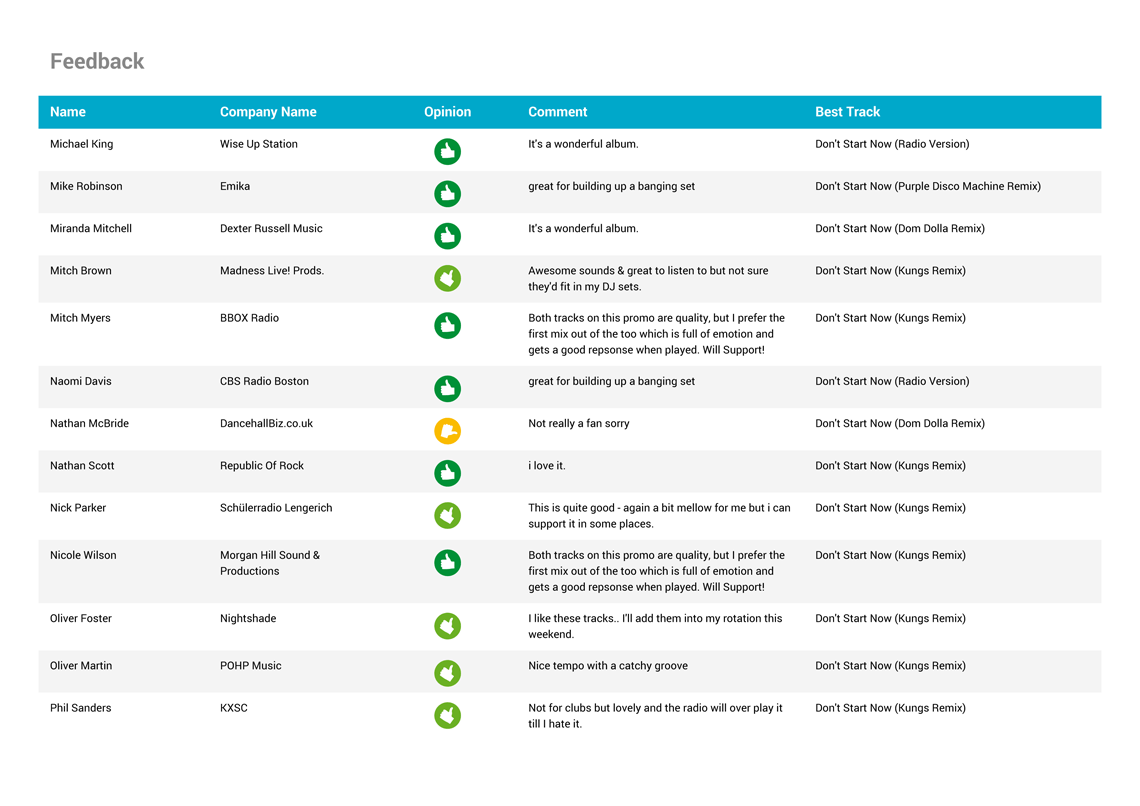 iPool Version 5.2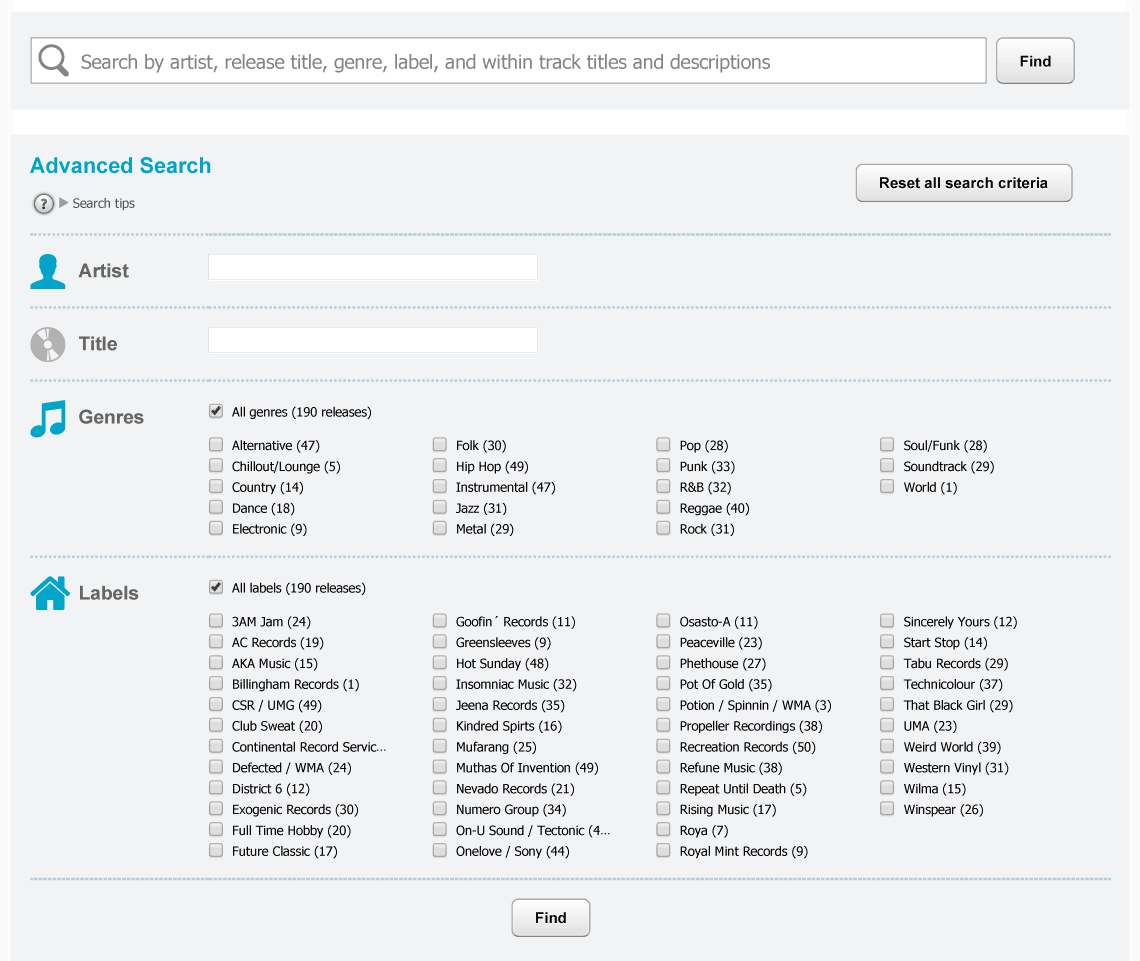 An even faster and easier way
to find releases.
We have completely redesigned and added many new features to the releases search function. These make it a lot easier for you and your recipients to browse through your music catalog and find releases of interest.
All-encompassing search: The big new search box will surely be the first thing you notice. You and your recipients can easily find releases with the help of this new text field. From now on, you will not only be able to search by artist and title, but by genre, label and even text within track titles and descriptions.
Search suggestions: Starting now, various suggestions will appear when you enter something in the text fields.
Multiple genre and label selections: Also from now on, you will be able to find releases from multiple genres or labels at one time.
Number of releases: A number indicating the quantity of releases within a given genre/label will now appear after each genre/label. Furthermore, only those genres/labels are displayed, which have actually been assigned or are in fact available to the respective recipient.
Reset all search criteria: There is now a new button in the upper right corner that lets you easily reset all search criteria.
Modify search criteria: Click the "Find" button and review the search results as usual. You will then see a new button above the search results that lets you easily and conveniently change the current search criteria.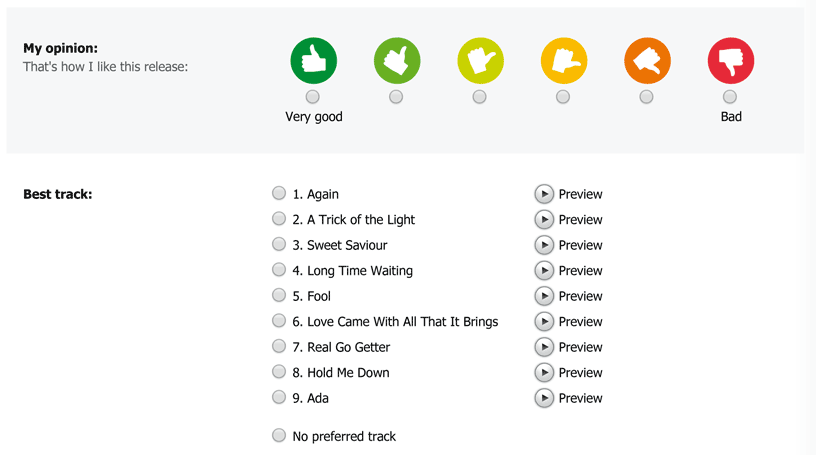 Improved feedback design
We have also given the graphic design of the "Submit Feedback" page a clearer and more modern look and feel.
Among other improvements, it includes new icons that also look outstanding on high pixel density screens (HiDPI or Retina displays). You will find these new icons on other feedback-related pages as well.
iPool Version 5.1
Encrypted data transmission via HTTPS
iPool now supports the HTTPS protocol. This means that starting now, all data can be transmitted between your iPool and you and all your recipients in a manner that is secure against interception and monitoring.
iPool Version 5.0
Present multiple releases in a single newsletter
Starting now you can easily send newsletters that contain several releases at a time. Very practical: iPool adjusts the access lists for all inserted releases fully automatically. This means you can always be sure that each newsletter recipient will be able to access all of the inserted releases.
Integrate external videos
From now on, you can easily insert external YouTube and Vimeo videos into the info pages of your releases. This new feature lets you share even more information about your music with your recipients.
Other improvements
Starting now you can choose a bitrate (sound quality) of up to 256 kBit/s for preview versions that iPool creates automatically.
On the "My Releases" page you can now sort your releases by the criteria "Storage Space" and "Created By". This new feature lets you quickly find out, for example, which releases are taking up a particularly large amount of storage space.
iPool Version 4.9
Now even more ways to systematically send e-mails.
Starting now, it only takes a few clicks to send e-mails to each and every user who either took or didn't take certain actions regarding a release.
Here are just a few examples of the versatility and benefits you will enjoy by using this feature:
Remind by e-mail all those users who have not yet responded to a release. It's very easy to do and requires only a couple of clicks.
Send e-mails to all users who have either already or not yet downloaded a specific release.
Thank all users by e-mail who have left feedback – conveniently and in one go.
Send reminder e-mails to everyone who has downloaded a release, but not yet provided feedback.

iPool Version 4.8.2
Provide links to related websites.
Give your recipients even more information about your music. Now you can easily add links to related websites for each release. Set links to such informative things as the artist's website or their YouTube, Facebook and Instagram pages.
Once added, iPool shows the web links on the release's info page under the headline "Web Links". With one click on the link, visitors are taken straight to the respective website. And that is where your recipients can learn even more about your music.
Grant entire pools access to your releases.
iPool access lists are an extremely powerful tool that you can use to manage and control the access to your releases with extraordinary precision. Previously you could only grant access to a release to selected pools within given user groups.
Starting now, you can easily grant entire pools access to a release as well – regardless of the user group. When you grant entire pools access to a release, all the users of these pools will have access to that release. And it doesn't matter if the users of the pools are radio stations, journalists or DJs.
Automatic embedding of metadata in AAC and ALAC audio files
Starting now, all important metadata is not only embedded automatically in MP3 files, but in AAC and ALAC (Apple Lossless) format files as well. This means that each AAC and ALAC audio file will contain all the relevant metadata, including the artist, title, cover image and much more – and all with no additional effort on your part.
This feature lets your recipients more quickly and conveniently organize and find your music in media players. In addition, your tracks will be depicted using the cover image in many media players, as well as in Windows Explorer and the macOS Finder.
View newsletter recipients
Now you can view a list of recipients for each newsletter that is sent. This feature is available for all the newsletters that you have sent to access lists or pools.
iPool Version 4.8.1
Editing tracklists now simpler and easier
From now on you can directly edit the track number, track, ISRC and BPM by clicking in the respective field and typing your entry.
iPool Version 4.8
Thorough analysis of your e-mail domain
Starting now iPool will analyze your e-mail address domain to determine if it is optimally configured
for sending e-mails.
Some of our customers have created what is called an SPF record for their e-mail domains. SPF (Sender Policy Framework) is a method used to prevent spam e-mails. SPF allows the owner of a domain to specify within the Domain Name System which server is authorized to send e-mails from that domain.
If this is the case for your domain, but a reference to the iPool server is lacking, then this can result in the e-mails you send with iPool being blocked on the part of some of your recipients. To make sure this does not happen, you will be receiving a warning notice when sending e-mails. The warning notice includes instructions on how you should modify the SPF record for your e-mail domain. Additionally, and starting right now, iPool will be temporarily sending your newsletters using a non-blocking sender address. This will be done automatically as long as the reference to the iPool server is missing in the SPF record for your domain.